Internet of Things or IoT is continuously creating pavement in every industry in this digital era. Using this technology, physical electronic objects can communicate with each other with the assistance of human dependency. These objects are known as smart objects. The IoT in Healthcare industry is also not left unturned. IoT has brought many changes in it.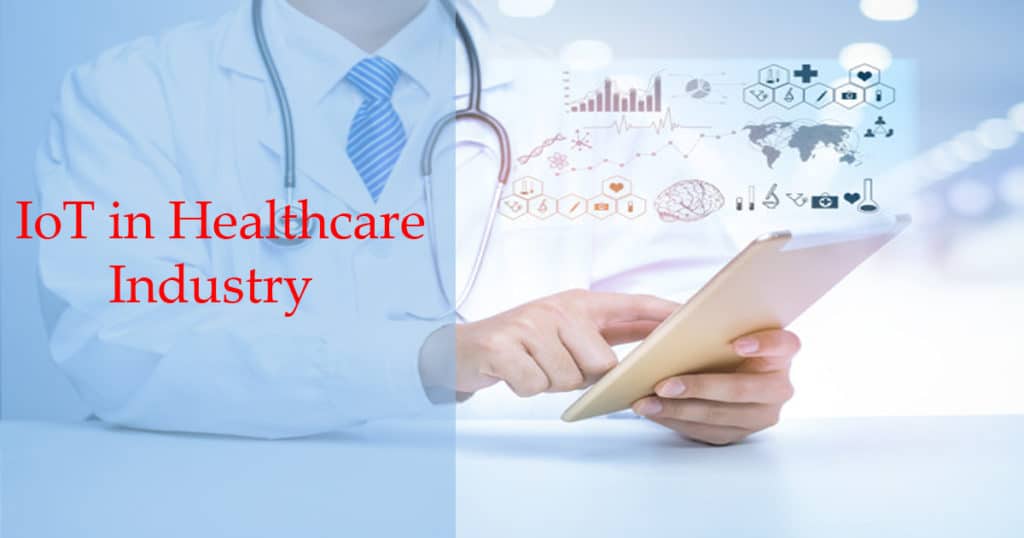 As the healthcare sector is going through tough times; the costs for treatment are reaching the sky, the global population is getting old, & severe chronic disease is on continuous rise, IoT has come like a boon to rescue it.
While we can't stop the people from getting old or eradicate chronic disease at once, but we can make the treatment less costly so that it can reach everyone easily.
If we observe then we will come to know that the diagnosis of the disease is one of the major contributors to high hospital bills. However, IoT can move the traditional medical checks from the hospital to the patient's home. An accurate diagnosis will also eradicate the irrelevant need for hospitalization.
In this article, we are going to discuss the IoT benefits, challenges, and applications in healthcare.
Let's begin with Benefits:
1. Monitoring Health:
IoT enabled health devices can track the health conditions of a patient. In the case of an emergency, these devices can send an emergency signal to the caretaker of the patient or its doctor.
E.g., in Apple Watch, there is a Fall Detection System, which shows an alert when its user falls. The person needs to tap "I'm OK" within a minute else it will send alert to emergency services. Also, a message would be sent to emergency contacts.
2. Continuous Monitoring & Reporting:
By real-time monitoring using a smart device that is connected to a smartphone app, the app can collect data and your health insights and transfer your health condition automatically to your physician.
It results in fewer readmission rates of patients because of remote patient monitoring on heart failure patients. These devices also collect and transfer data like blood pressure, pulse, heartbeats, blood sugar level, weight, etc.
This data would be stored in the cloud and can be further used by your doctor, insurance company, or any concerned person regardless of their location or time.
3. Drug Management:
Drug management is one of the most prior benefits of IoT in the healthcare industry. Every medicine should be taken in a proper dose. IoT allows controlling the amount of taking medicine. With IoT app development, the physicians can check the dose taken and the effectiveness of treatment simultaneously. It also reminds the patients to take their medicines and can even also notify the caretaker when the patient hasn't taken his medicine.
4. Data assortment and analysis:
The smart device is in continuous contact with your body while the app on your smartphone is in complete synchronization. The IoT application development solutions collect, report, and then analyze the data, cutting down the raw data storage. This all can happen to overcloud with the providers only getting access to final reports with graphs.
Challenges:
1. Security of Data:
The main issue in IoT for healthcare is its unreliability for data security. Privacy of data is significant in the healthcare industry as medical records or history of patients is confidential information. Malefactors may try to get access to the healthcare IoT software and expose sensitive data. To avoid such issues, it's necessary to focus on data security that leads to additional costs.
2. Integration of protocols & multiple devices:
IoT app development in healthcare involves the connection of multiple devices. For creating a flexible ecosystem, many protocols are required to integrate with many devices. But there isn't a single solution regarding communication protocols and standards. Due to this, IoT integration in healthcare is slow and limited.
3. Overloading of Data:
There is a very high amount of collected data & information by IoT devices. Due to this, doctors can face data overload & issues inaccuracy. A large amount of data becomes problematic in decision-making during treatment.
Applications:
The IoT is on a continuous rise in many different industries including healthcare. An IoT app development firm is capable of providing benefits such as:
Reduction in emergency waiting time,
Monitoring health insights of patients,
Better drug management,
Drug assortment and analysis
IoT has introduced many artificial body prosthetics, wearables, and other implementations enhancing the healthcare sector.
1. Hearables:
IoT enabled wearables have completely transformed the lives of people suffering from hearing loss problems. Nowadays, wearables came up with Bluetooth technology which syncs your smartphone with it.
2. Sensors:
With the advancement in technology, pill-sized sensors have come up which can monitor the medication in our body and warn us if it detects any irregularities in our bodies. It is like a boon for diabetic patients for curbing symptoms and provide early warning for the disease.
3. Computer Vision Technology:
AI-driven computer vision technology had to boost up drone technology aiming to mimic visual perception and hence decision making based on it.
Wrapping Up:
IoT with its integration in mobile applications is changing the world. Amplework is amongst the best internet of things company in India with expert IoT mobile app programmers & coders who can provide multiple solutions in every industry.
Inquiry Now: sasi.kol@gmail.com