From the past few years, the on-demand apps had a significant impact on businesses especially the small & medium scaled businesses. As per a report of Harvard Business,   the On-demand economy has attracted more than 22.4 million customers, and the spent worth is nearly $57.6 billion. In current times, almost every business regardless of its size is taking leverage of the advantages of on-demand apps for attracting more customers and expanding their business.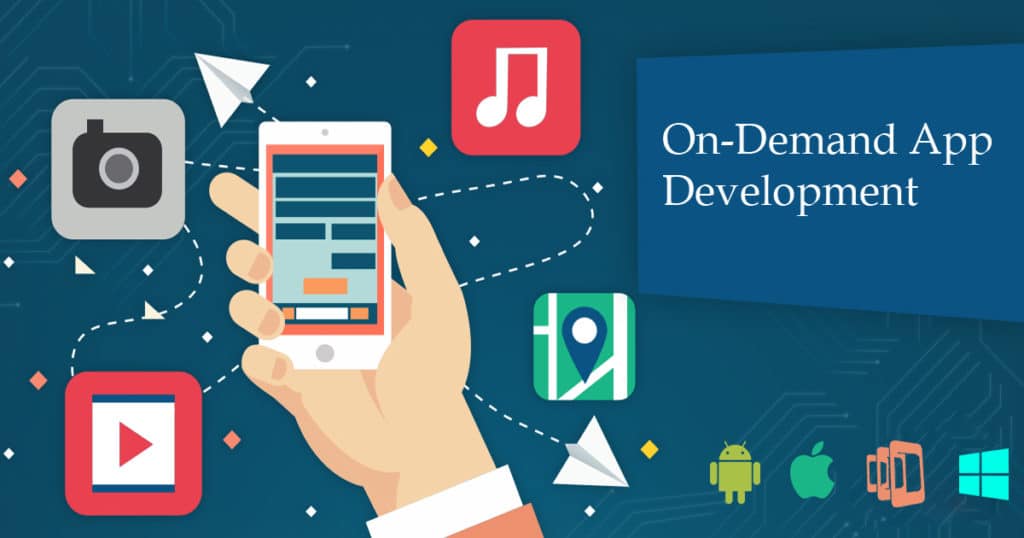 The on-demand business system can be found in every industry such as retail, healthcare, courier, entertainment, food delivery, hospitality, and many other areas. The on-demand app development has brought significant changes in the online ordering and booking approach.
As the world is moving towards mobile, and the internet has reached almost every corner of the world, it seems impossible to live normally without our smartphones. The reason is simple, we have become dependent on, several apps that affect our daily lives. In this article, we will have a complete overview of what are these on-demand apps, what are their benefits, main features, and which industries are taking advantage of them.
What are the On-demand apps?
In simple words, On-demand apps are a mediator between the consumers and service providers. Instead of finding the service they want (which can be a quite hassle), they relied on these mediator service providers. These on-demands apps charge a nominal amount of fee for a faster and convenient procedure. The services can include grocery, food delivery, car rental, motorbike rental, personal health service, etc. Most of the industries are taking advantage of these mediators for easy management and build a reputation.
Benefits:
Today, nearly every business is into On-demand app development for their sales. And when it comes to developing a customized mobile app, everything seems reasonable. However, you need to keep in mind that for a useful and customer retention app you should include only necessary features as well as check the vulnerable areas of the app.
A few of the benefits of having an On-demand app development for your business are:
1. Taking leverage of mobile era:
You would be surprised to know that the number of mobile phone users has been increased by 4.68 billion from 201   5 to 2020. It means that with so many mobile users, you need to give special attention to mobile app development also. An on-demand mobile app will help you gain a pool of customers through mobile marketing and custom features.
2. Secure and Scalable:
You can't be sure whether the other third-party apps are fully secure or not, and as a business owner you can't take slightest of risk related to money, and confidential information. When you opt for your on-demand mobile app you can get assured for complete data security. Again, in comparison to the other mobile apps build for mobile app platforms like iOS, Android, or Windows, these apps are better with scalability.
3. Unlimited business opportunities:
Through mobile app development, you will get important information about your customer bases such as their contact number, email address, name, age, gender, addresses, preferences, interests, and other useful info. in a tabular database. You can use such a large amount of data for many purposes such as:
You can analyze the data and based on that improve business decisions
Attract the audience by offers and discounts as per their interests
Choose direct email marketing to market your products
You can send notifying messages or emails for "Products left in Cart"
Build 'business-customer' relationship
Increase your conversion rates to otherwise unattainable levels
4. Affordable:
Opting for cheap or free things will make you pay in the long-term. There is no benefit of going for a generic solution similar to which plenty of other solutions are available in the market.
On the contrary, if you chose for a highly custom on-demand mobile app development which can increase the cost by a few hundred bucks but will result in the form of increased ROI. So instead of opting for ready-to-use solutions for your business, better hire affordable On-Demand app development services.
Benefits from the customer perspective side:
1. Easy to find the service provider:
By using an on-demand service app, the customer can choose the same provider for the same service. When a customer selects a provider for service and makes a purchase, the provider will get added to a list, so that in future the customer seeks for the same service, the same provider would be able to provide it.
2. Easy Tracking:
After making a purchase, the customer can easily track the status of his/her order. There are map services, contact number of the delivery agents, real-time location, messages & e-mail alerts, pop-up notifications which makes the tracking process quite smooth. The on-demand app development company includes all these features for better customer experience.
3. Cashless payment:
As the world is getting digital, cashless payment has become a new norm. It is also very easy for the customers to make their payment in advance through their cards, UPI, digital wallet, or any other payment method, in a fast and straightforward manner.
4. Reviews & Rating facility:
The reviews & rating facility helps the customers to share their experience with the service provider. This helps other customers to know whether they should trust the provider or not. It also helps the service provider to make a better brand image among the consumers.
Features of On-demand apps:
An out-of-the-box on-demand app comes with many custom features that depend as per your industry niche. However, the main features that should be included in an on-demand app are:
Pop-up Notifications:
Pop-up notifications bring more customer engagement to the app. You can easily let your customers know about the limited period offers or services. You can also choose message alerts apart from the pop-up notifications.
Real-time GPS Tracking:
Real-time GPS tracking plays a prominent role in the order tracking. In an on-demand app, it is a key feature. Through this feature, the customers can easily know the status of their orders.
Wishlist:
There can be scenarios during which the customers are not able to make a purchase or the product they are seeking is running out of stock. In such scenarios, the Wishlist feature plays an important role. The customer can add the item in the wishlist and when the product would be in stock, he will get the notification.
Payment methods:
You should know about the trending payment methods which the users are opting most, for e.g. when the UPI comes into the market, e-commerce giants such as Amazon and Flipkart included UPI payment facility to facilitate the payment. In your on-demand app, provide different payment methods as per customer convenience.
Reviews & ratings:
The success of the on-demand application greatly depends on the reviews and client testimonials. They will help you improve user experience and app quality.
Cancellation Feature:
There can be many scenarios at which the customer wants to cancel the order due to some particular reasons. Hence, you must provide a cancellation feature or reschedule the delivery or booking as per the convenience of the customer.
Wrapping up:
With so many benefits, features, and customer demand, and on-demand mobile application seems to be quite promising for your business growth. Amplework, the best on-demand app development company provides you with the best services on mobile app development in all industries.
Inquiry Now: sasi.kol@gmail.com
Please like the Facebook, Twitter, and Instagram page