The advent of the Evolution of Chatbots has made a great impact in the business sector especially in providing customer care solutions. They have taken over many of the business processes and niches which earlier were dominated by the regular staff. For people, it may be a matter of concern because a single chatbot can deplete hundreds of jobs of the people, especially in customer services, sales, and outsourcing. But it will also make new jobs, with more human creativity and personal touch.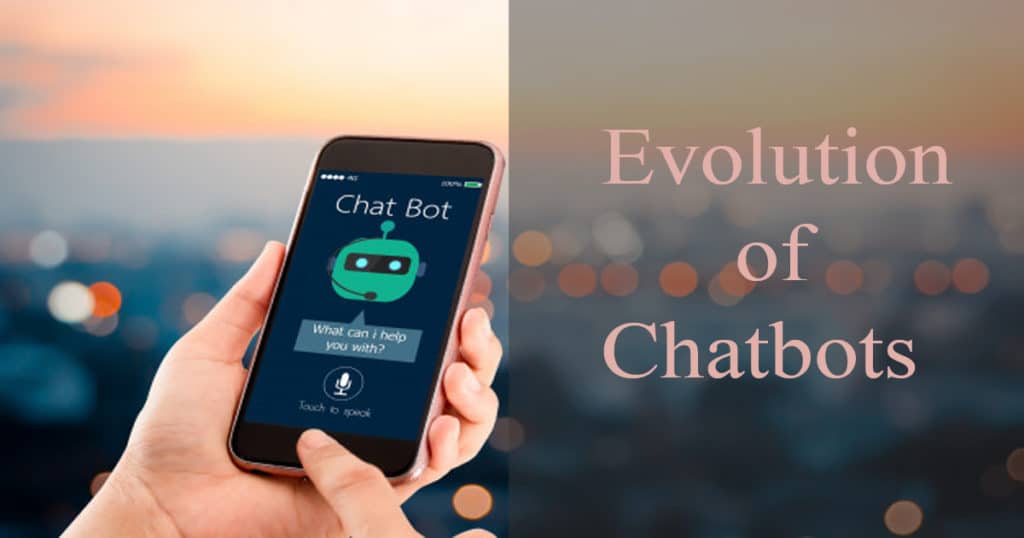 For industries, the chatbots have come like a boon that can automate and streamline operations and resulted in better customer engagement. With the rise of AI, the chatbots have become more powerful, sophisticated, and capable of providing answers to queries of customers.
A chatbot is not a recent phenomenon, instead, the term "chatterbot" was introduced nearly 3 decades ago by Micheal Mauldin implying conversational programs. Initially, the chatbots were programmed of simple scripts & rules but now with AI, they are capable of providing realistic experiences and human consultant experience. The AI Chatbot development services are thus getting highly popular.
What is Chatbot?
In simple terms, a chatbot is a computer program that uses a text-based live chat to engage with the customers on a web or mobile application for resolving the queries of a customer. Chatbots are interactive software platforms imitating human conversations or behaving like a human through voice commands, text chats, or both. It has gained wide popularity in several industries, especially for customer service.
Types of Chatbots:
There are four main types of Chatbots:
1. Informational Chatbots:
These chatbots have the ability to identify information and resolve the queries of a customer or an employee, moving beyond traditional search results to give customer context-specific answers by using voice, text, or images, thus reduces the effort to get accurate results.
2. Enterprise Chatbots:
The chatbot development company are continuously evolving the enterprise chatbots, they seamlessly connect enterprise data resources, the flow of work also get streamlined, and the efficiency gets an increase.
The employees can use chatbots for checking sales numbers, determining the actual performance of any campaign, and the exact status of inventory.
These bots can also schedule meetings, speed and improve decision making, and foster great collaboration.
3. Transactional Chatbots:
The transactional chatbots can be used for transactions such as booking tickets, ordering food, or managing your financial accounts. You can also use these bots for online purchasing. For e.g. Amazon Alexa assists in taking voice a mainstream way to pay.
4. Devices:
These chatbots support a particular type of devices such as wearables, home appliances, and vehicles to interact with each other. It makes life easier and streamline. For e.g. you can now use smartphones or smart speakers can control your home switches and lights.
Why Chatbots are getting popular?
The USP of chatbots is its ability to get interact with the customers. As the messaging apps are increasing, the app ecosystem is growing, and AI & cognitive technologies are evolving, the growth of Chatbots has massively increased. The benefits of the Chatbots are:
Enhances the productivity of employees: Chatbots automate the follow-up responsibility of tasks.
Queries of Clients: The chatbots can have a network with other bots for resolving queries of clients.
Engaging with customers: As mentioned above, the chatbots can provide a highly personalized experience to the customers.
Team engagement: Chatbots can facilitate better and effective communication among the team members.
Customer retention: Increase customer retention by assisting customers through messages or tell-calling for order and payment process.
At Amplework, the best Chatbot development company, we are having expertise in providing AI BOT development services for nurturing your chatbot requirements.
Inquiry Now: sasi.kol@gmail.com